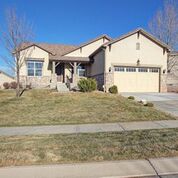 At the end of last year, I found Ron's assistance in the sale of my mothers home to be invaluable.

He knocked on the door and offered to help two weeks before she was to move into assisted living, and I was completely over-whelmed. To be honest, I didn't expect to have the house ready for listing until after the holidays in January. Ron quickly made a full assessment of what was needed and completely coordinated:

– setting up the removal of all donation items to include sweeping out the garage.

– personally removing spare paint cans.

– coordinating receiving multiple quotes for paint, carpet, cleaning, and even winterizing the landscaping.

– meeting contractors at the house in our absence.

– working as a team to maximize the value of the property.

– making himself available on the Thanksgiving Holiday weekend to perspective buyers that resulted in quick sale before work was complete.

All in all, Ron was willing to help out in any way he could to make the transition for my mother and I as smooth as possible. I would recommend him to any of my best friends or family.
— Denise Watson, Client